Fleetfoot
is Celaena's dog, and the only guaranteed survivor of the Throne of Glass series.
Appearance and Character
She is now big, with golden fur and bright eyes. Fleetfoot is quite cautious of strangers and does not like to be touched or stroked by anyone other than Celaena. Fleetfoot is also good friends with Evangeline.
Biography
Fleetfoot was given as a Yulemas gift from prince Dorian to Celaena in Throne of Glass. Princess Nehemia often looks after Fleetfoot in Throne of Glass and Crown of Midnight. During Crown of Midnight, Fleetfoot jumps through a portal to another world when Celaena opens the portal to try and speak with Nehemia. In Heir of Fire when Celaena is in Wendlyn, Dorian looks after her. At the end of Heir of Fire, Chaol escapes, taking Fleetfoot with him. (The only good thing he's actually ever done.) In Queen Of Shadows, Celaena and Fleetfoot are reunited when Rowan is taken to a country home in Oakwald Forest to be patched up by a midwife. In Empire of Storms, Fleetfoot is left in Terrasen with Evangeline and Murtaugh.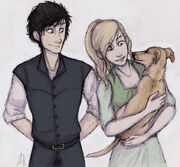 Ad blocker interference detected!
Wikia is a free-to-use site that makes money from advertising. We have a modified experience for viewers using ad blockers

Wikia is not accessible if you've made further modifications. Remove the custom ad blocker rule(s) and the page will load as expected.